In an age where we are digitally connected anytime and anywhere, we cannot do without personal contact. The organisation of events and the complete communication flow around them are a full part of the marketing communication mix.
Our event team will be happy to help you with strategic advice and the design of your business relations meetings, inspiration events, product launches, road shows, teambuilding, employee parties, customer events, congresses, and exhibition stands.
A tailor-made team of the most experienced professionals is put together for each assignment. This is how we guarantee an efficient working method with the right people in the right place.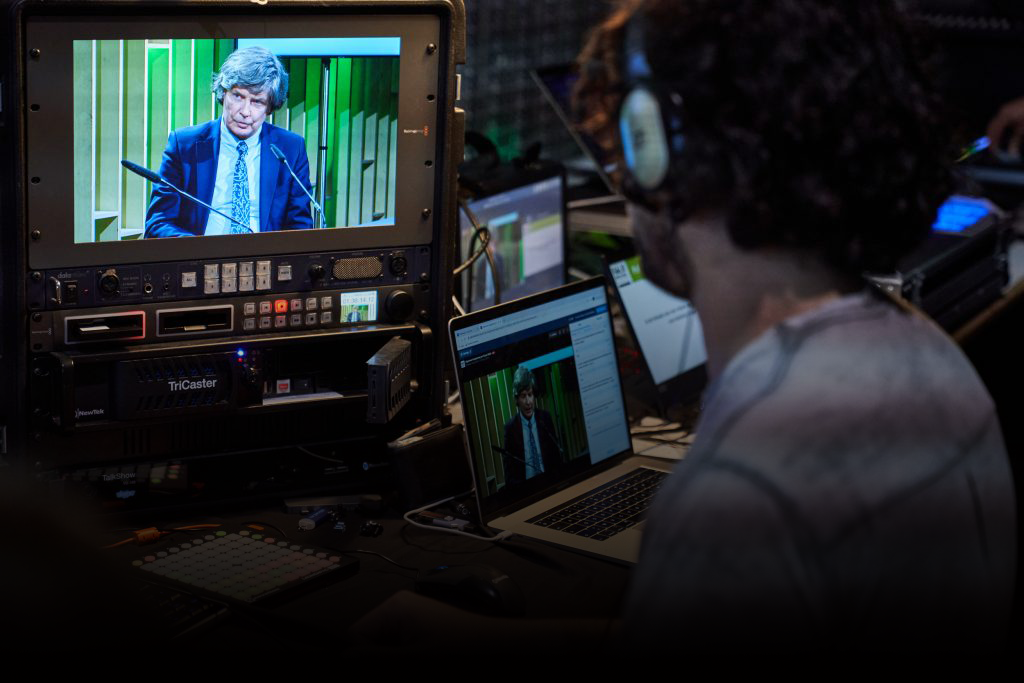 Virtual Annual Meeting of the Brussels Bar on 16 June 2020
Even at a time when Covid-19 was throwing a spanner in the works and our world didn't extend beyond a limited bubble, All About Content managed to connect the members of the Brussels Bar during a virtual, two-hour annual meeting.
The President of the Bar and members of the Council of the Dutch Bar Association of Brussels (18 people) met that afternoon in a spacious professional studio. The President of the Bar and the President-Elect of the Bar, who was to take over 'the bar' in September, were on the discussion panel and Fien Sabbe, former TV presenter and attorney at the Ghent Bar, served as moderator. A number of speakers were also invited to the table, albeit in the form of pre-recorded video interviews. It became a varied talk show attended remotely by over 600 attorneys. It was an absolute record compared to the 'traditional', physical general meetings.
Reception under the vaults of a train platform at Tour & Taxis
On the occasion of his election as President of the Dutch Bar Association at the Brussels Bar, Patrick A. Dillen invited all members and 'friends' of the Brussels Bar to raise their glasses together and enjoy a delicious festival buffet.
It was one of the very first events under the beautifully restored vaults of the maritime train platform at the Tour & Taxis site. The circus school's students created fireworks, literally and figuratively. While the guests enjoyed the richly stocked buffets and the wine and beer bar, the more athletic among them could indulge themselves on the pétanque courts specially created for the occasion. The beautiful decorations and furnishings for this event came about in cooperation with Accio/Ideashapers.
The guests received a personalised invitation created by the All About Content graphic studio.
The follow-up and pre- and post-communication for this event took place via an emailing module linked to the Brussels Bar website, another All About Content creation.